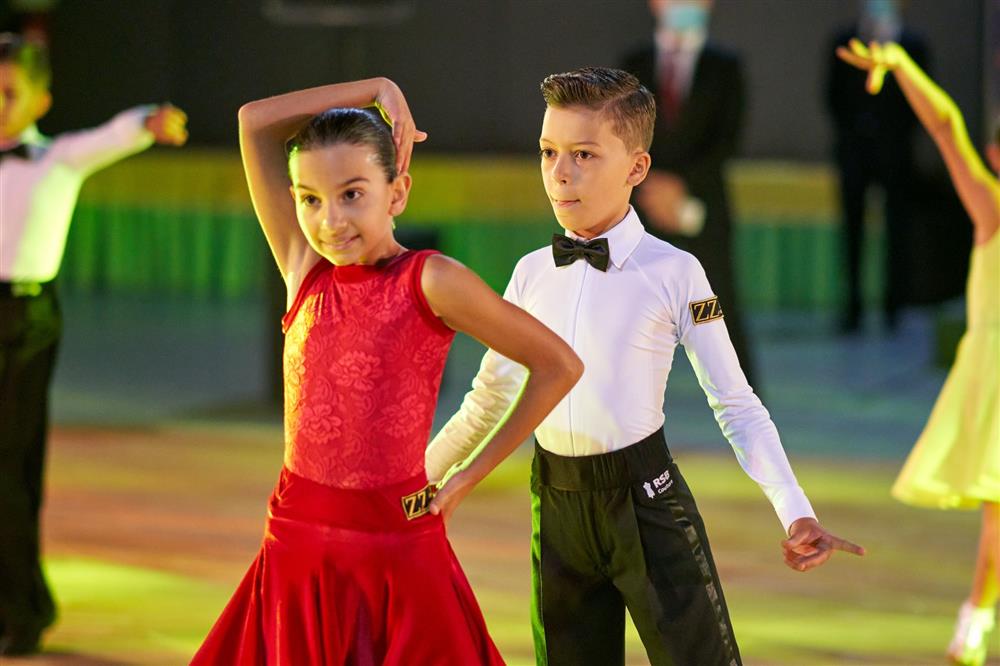 Twirling, dancing and skipping around is something little girls enjoy doing. We recommend that young girls star their "dance careers" by taking ballet dance classes. As soon as your child turns three years old, she can enroll in ballet dance classes at DanceSport Club. However, we highly recommend that as they start to learn about dance they progress to taking Ballroom and Latin dance classes. In those classes children can learn many important things such as following instructions and improving balance and coordination. Additionally, a Ballroom and Latin dance is great exercise and a fun excuse to dress up in dance outfits and dance shoes! Here are several ways little girls can benefit from taking Ballroom and Latin dance classes.

1. FOLLOWING INSTRUCTIONS
Taking Ballroom and Latin dance classes is a great way to teach kids how to follow instructions. Kids Ballroom and Latin dance classes are often customized for specific age groups. Younger kids will learn how to follow the teacher's simple instructions and learn basic dance steps. If your child really loves to dance, she can take their early classes very seriously and carefully listen to the teacher. Often in Ballroom and Latin dance classes children will learn a choreographed dance routine. Older kids will learn more complex dance moves by following the teacher's instructions and example.


2. BALANCE
Many young children have trouble balancing, and practice makes perfect! Ballroom and Latin dancing teaches kids precise and simple dance moves. Kids can significantly improve their sense of balance when they practice the repetition of simple dance moves. Ballroom and Latin dance classes teach girls how to point and balance on their feet, stand on one foot, move in an elegant manner, and gracefully extend their leg and arms.

3. COORDINATION
Coordination is another great benefit kids learn by taking Ballroom and Latin dance classes. Little girls learn how to precisely move their feet while also gracefully moving their arms and positioning their hands. Dancers are required to stand up straight and pay attention to their minor body movements. Dance class can be so helpful for kids to practice their coordination, which will also help with running and playing at the playground. Kids who learn basic dance techniques at an early age will be able to quickly advance to more technical (and fun) dance instruction.

4. GRACEFULNESS
Little girls can always benefit from practicing their gracefulness. Straight posture and graceful movements can go hand in hand with learning manners and etiquette, which are often under-emphasized topics in today's society. Graceful and precise movements aren't just for girly girls either; kids who practice the intricacies of Ballroom and Latin dance can go on to excel in other precision-based activities such as martial arts.

5. EXERCISE
Of course, the rigors of Ballroom and Latin dance and repetition of precise movement is great exercise! Girls are often tired after their hour-long dance class. Kids will have fun burning energy while doing Ballroom and Latin dance moves. Chances are, if your girls love dancing, they will also spend much of the week practicing their dance moves in all sorts of impromptu settings.

6. PARTNERSHIP AND TEAMWORK
Ballroom and Latin dancing can be executed solo, but the majority of competitions are centered around "partner dancing." Learning about working with a partner and/or team helps girls develop socially and learn to get along better with peers, which will help her succeed in many later endeavors including career and "life."

7. DRESSING UP
Finally, the best part of taking Ballroom and Latin class is dressing up! Girls like to dress up "like a dancer". Often a series of Ballroom and Latin dance classes will result with a recital or competition where children can demonstrate the skills they've learned to their parents and relatives.

Ballroom and Latin dance classes are a great activity for kids to practice important developmental skills. Girls significantly benefit from the training and chance to show off the dance routines they learn.