M Music 
Listen to ballroom and Latin music outside of class. You can listen at home while you clean, cook, do homework, or complete other chores. You can listen to a music CD or mp3s in your car while you drive. If you're alone, you can practice finding the beat and counting the music out loud. It takes some time to get used to recognizing what type of music you are listening to and finding the beat, so don't get discouraged.

P1 Posture
This is the number one reason why people have trouble moving. It is already challenging to deal with the speed of music, taking the steps on time, and leading (or following) if you have good posture. However, if your posture is not good, your body is either tilted forward, backward, or poorly aligned. As a result, your body does not move as a unit, thus your head may move first, then, maybe your left arm, then your legs, or any variation of some other order. Moving your body piecemeal takes too much time, and creates problems staying with the music and your partner.
Imagine that you want to move from one apartment to another. You are not (hopefully) going to get one chair, take it to your new apartment, come back, then take the second chair to your new place, then come back to your old apartment, then take a table, etc. It makes more sense to put as many chairs, tables, and other furniture into your vehicle as you can and take them all at once. The same is true of our body. Put it all together, keep it properly aligned and move all the pieces as one unit (keep in mind this does not mean dancing "square", you can still incorporate rotation as part of the motion).
P2 Partnership
This is what I call the "Big P" because it incorporates several things to keep in mind at one time. The difference between ballroom/Latin dancing and many other forms of dance is the fact that you CAN'T BE SELFISH! Yes, I honestly believe that partnership dancing is more difficult than marriage, because you have to work together with your partner every step of the way. You have to think about at least 4 things when it comes to maintaining a good partnership: 1) Frame, 2) Connection, 3) Know your own steps, and 4) Communication.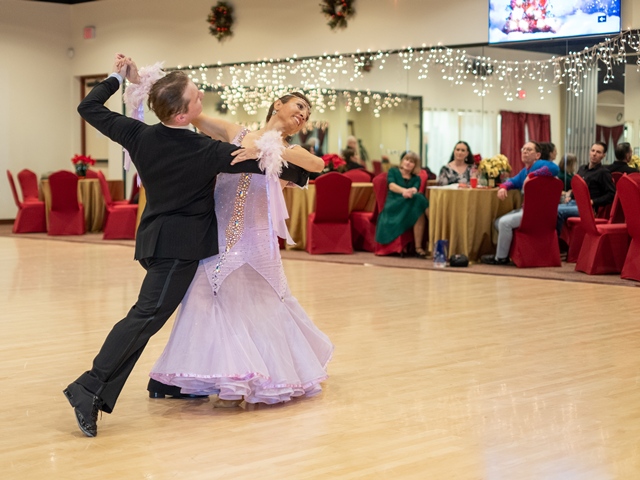 1) Frame – For Standard/Smooth Dancing, you need to maintain your elbows up and your arms with some tension (no chicken wings, or swinging doors). Don't disconnect any part of your shoulder or arm while moving. For Latin, you also need to keep some tension in your arms (both males and females), do not let your elbows move behind past your body. Listen to your partner's "signals" and then respond.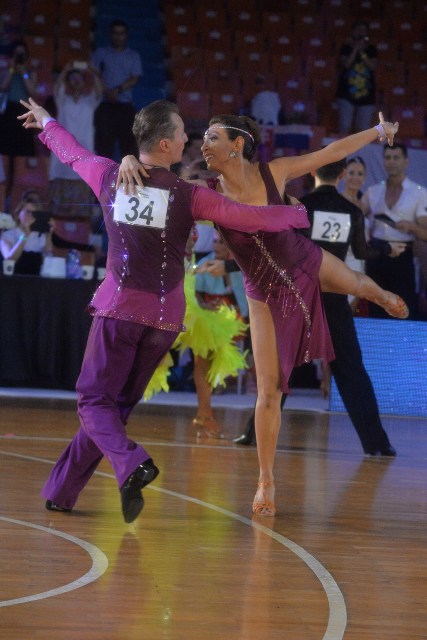 2) Connection – For Standard/Smooth closed position, you need to keep your right side toward each other. For Latin, you have to keep a portion of your body "connected" to your partner, whether it's your arm (like in closed position dancing) or some other part of your body (in open position dancing). By this, I mean listening to your partner's movements and "responding with your body." This is a difficult concept to grasp, but well worth working on, because it is something that will greatly improve your partnership.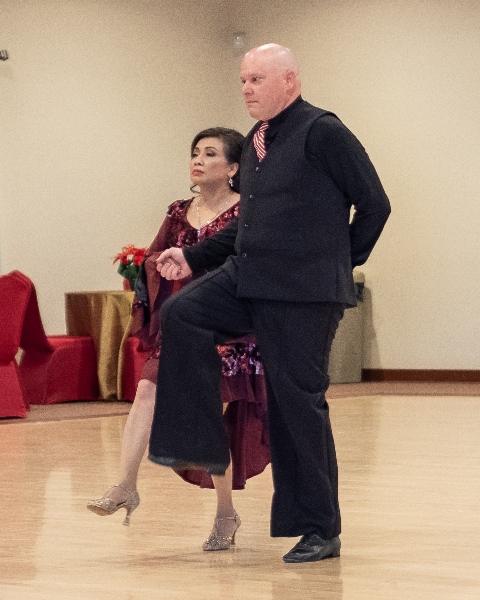 3) Know your own steps – If you are working on a routine or even improvisational dancing, know your steps. Whether you are a male or female (lead or follow), you MUST know how to do the steps by yourself first. For a majority of steps, if you can't do the steps by yourself, then you have zero shot of being able to do it right with a partner. Don't expect your partner to carry him or her, plus you (no one will want to dance with you if you do this, trust me). You have to carry yourself.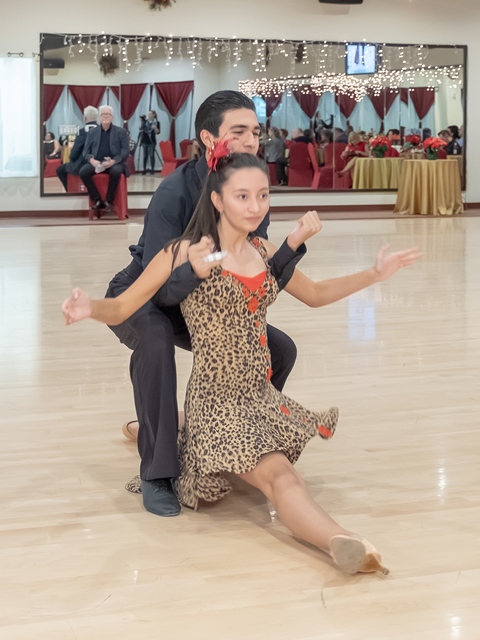 4) Communicate – Synchronize with your partner and the music. Yes, yes, difficult, difficult, difficult. Lack of communication is the reason most couples divorce in the real world, why wouldn't it also be the reason most dance couples can't make it either? What if you and partner worked hard (separately first) on lots of things but it still does not seem to come together, especially in music? In this case, make sure that you are doing steps that match each other. Is the lead doing a Natural Turn and the partner trying to do a Reverse Turn? Learn to listen to what the lead is telling you if you are a follow, and be at least somewhat aware of what the follow is doing, if you are leading, so you can make sure you are doing the same actual step. Another issue may be timing. Make sure you are in sync. If one partner dances 1&234 and another dances 12&34, there is little chance that you will be in sync (unless the choreography allows for you to move out of each others way at precisely the right time). Third, you should understand the subtlety of how the two of you hear and dance to the beat. Some people will anticipate when the beat is and therefore dance to the first part of the beat. Dancers sometimes do this when the music is really fast, or they feel they wouldn't be able to react fast enough when the beat actually comes. If you can move fast, try to avoid this since you will be dancing before the music. A better way is to actually listen to the music and respond to the music. As long as your response is not overly slow, you will have a better shot at looking like you are dancing with the music. However, whichever way you do it, both partners should try to do it the same. This is the hardest part of dancing (in my humble opinion).
A side note: Be considerate and understanding of each other. Just because you and your partner now have to work as one unit, does not mean that by some magical force you will now only have one heartbeat, one brain and one opinion between the two of you. No, instead, you will have to learn consideration, courtesy and compromise in order to make it work. I wish you the best of luck on this part…I'm still hoping I'll get it some day. Oh, and don't forget to tell your partner you appreciate them on a regular basis. And, say "thank you for dancing with me" often.

P3 Presence
Presence includes "looking like a good dancer" and conveying the character of whichever dance you are performing. This aspect of dance is most important for performance, exhibition, or competition dancing. In order to do well in a performance, good posture is important. In addition, keeping your head held high, being courteous to your partner on the dance floor (no arguing or giving each other mean looks on the floor), and avoiding too many excessive and unnecessary motions (don't fix your hair, pick your butt, pick your nose, constantly adjust your outfit) is important to looking polished and professional. Once you have that down, think about conveying the character of the dance with your facial and body expressions. For example, cha-chas are fun and flirty, rhumbas are romantic, quickstep is playful, tango is passionate and intense, etc. The more you convey expressions of the dance, the better your dancing presentation will become.

P4 Practice
Practice, Practice, Practice. It cannot be said enough times, or done enough. The more you practice improving your technique, timing, partnership, musicality, expression, etc, the better a dancer you will become. Dancing may be an art, but it is also a sport. Don't forget to warm up and cool down. And, like any other sport, dancing takes physically working at it. Practice everything from your steps, to your expressions, to your technique, and if you can try to practice from time to time in front of a mirror or a video camera. It helps to see what you look like. A second practice tip is to push yourself during practice. Just because you are practicing, don't think you are "just practicing," you should be striving to reach a higher level every time you practice. If you don't push yourself to improve, you won't. In addition, don't forget to add in some stretching (maybe even take a Yoga class) to improve your flexibility. In the end, the most important part of improving your dancing is to practice. I have honestly found that the dancers that spend the most time practicing are those that look best on the dance floor. Therefore, time spent practicing is the most valuable time you can spend on your dancing.
In conclusion, don't forget to regularly think about and incorporate the 5 secrets to improving your dancing. They will make all the difference in your dancing, resulting in a much more enjoyable activity for you as a dancer/performer, as well as for your audience as spectators/fans.
I look forward to helping to answer any questions you may have of me. But, most of all I'm really excited about the opportunity of seeing you blossom as a dancer.
Happy Dancing,
Jeanette Chevalier